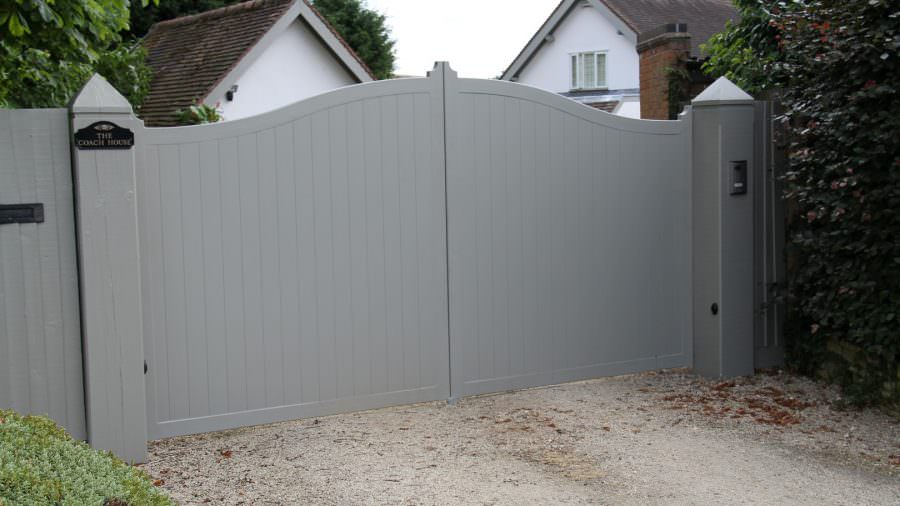 Choose from a choice range of bespoke Electric driveway automation gates including wooden gates, aluminium gates and wrought iron automation gates for your home — all Electric driveway gates being hand-made in the UK, and all of which can be automated and fitted by our fully qualified team.
The Claverdon Aluminium Gates are a very contemporary design. Aluminium gates are a zero maintenance gate that will stay looking like this for years to come
When it comes to selecting a long life beautiful gate you could not choose better than one of our aluminium ranges. With prices similar to other types of gates in the first place, and an absence of ongoing maintenance costs, an aluminium gate is not only beautiful but also kind on your pocket. Aluminium is a perfect material for the fabrication of gates – strong, stable and lighter than traditional materials, our aluminium gates will not rot, rust, twist, split or warp.
They are "seaside resistant certified", because of the aluminium frame lacquering, this carries a 10-year guarantee. Available in a range of RAL colours guaranteed to last 10 years
The only maintenance required is a regular wipe down with warm soapy water followed by a clean water rinsing.
These gates shown have a galvanised steel frame and then are clad with 25mm thick aluminium boards. Can be finished in any colour. price shown is for a 12′ opening, any size can be made to order.