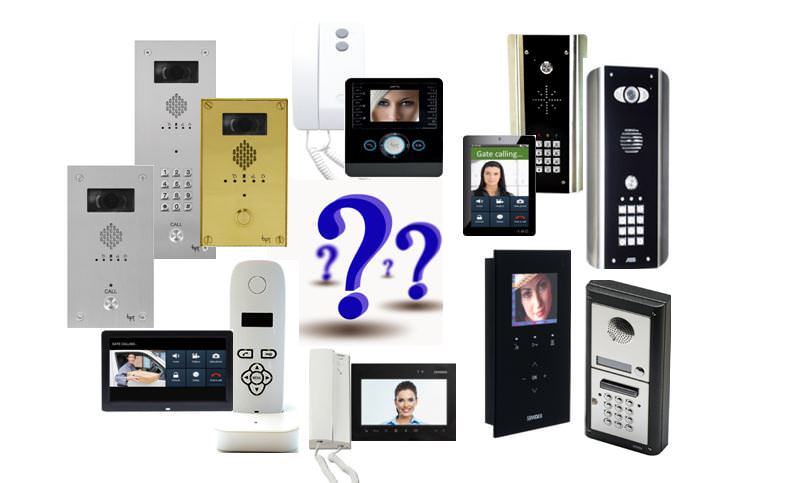 When fitting your premises with access control there are lots of products on the market to choose from. Intercoms run separately to the gate system, but are connected into the control panel.
Firstly you will need to decide whether you would be happy with a just an audio system. This will enable you to open the entrance door or gates from voice recognition. This is going to be a less expensive option.  However entry systems can now offer panels with a camera, allowing you to see your visitors for your added security.
Audio Intercom
These are managed from within the home/premises by an Audio receiver handset. The intercom system can cover one unit or multiple units i.e. a block of flats and some handsets have the capability to communicate with each other internally.
Access via the intercom panel can be made by calling an individual button or by entering a 4 digit code in a keypad. A Timed Tradesman button can also be an option within some products. Keypads or buttons are mostly back lit for the ease of use in darker light conditions.
Many products are available in kits that include the intercom panel and the handset, often giving the option of being mounted on the surface or flush into the wall, as well as a number of finishes to suit your aesthetic preference. Some units are Vandal Resistant for extra durability.
Some manufacturers sell the intercoms in a modular format, so that they can be built for your requirements, adding extra buttons, a keypad and even a proximity reader if preferred.
Video Intercom
Intercom options are the same as above but with a video camera for sight recognition on a monitor within the home/premises before allowing entry. This is an added safety feature.
The video monitors come with a range of options depending on your personal preference; this includes a Black & White or Colour Screen which could be set into a handset receiver or a hands free video monitor of various sizes. Some manufacturers offer modern touch screen monitors for ease of use and more functionality.
With today's current technology some video systems available can be viewed and managed from iOS and Android devices, giving you the flexibility of managing your security when you are away from home or the premises.
For extra peace of mind there are products on the market available that can record your missed visitors or can be combined with a CCTV system.
Intercom Systems
Hard wired – Intercoms can be wired from the front panel to the handsets.
GSM – works both on Audio and Audio/Video systems. This works on radio signal so beware that certain networks may not work in your area. A SIM is required to operate this system and a separate contract with a mobile phone provider.SIM cards are manually added to intercom but there are some that have them built into the system and these are valid for a number of years. We would never recommend a Pay as You go contract because if credit has run out then this will prevent the gates from being opened this way until topped up.
Wireless system – is still hard wired from the front panel to the gate, but wireless from the front panel to the handset. This is ideal when you do not want to lay caballing but the GSM signal strength is weak or not available. Only available in Audio systems.
WiFi – works if you have a reliable WiFi signal strength in your area.